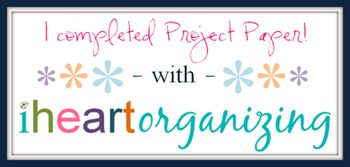 Inspired by one of my favorite blogs, IHeart Organizing, I decided to perfect my paper routine and take part in Jen's January Paper Challenge. Here is my progress report. :)
I had a head start by having my important papers already filed and labeled. Yay me! To make things more user friendly, I consolidated my most frequently used files in a smaller box. Voila!
To created a place for my incoming mail and papers I purchased this handy expandable file and planner at Target. My cute planner has a nifty little pocket that holds my incoming bills and invitations perfectly.
This expandable file folder is used to organize the "flow" of the incoming paper. To do this, I labeled each section like so...
I already had a system for my coupons in place as well. I organize them by product and so far this has been working out very well. I keep up with expiring coupons by checking the batch each week.
I did want to beautify my coupon book though, so inspired by Jen's adorable labels I created my own. :) Since then she has so generously provided the template for these labels
here
.
Finally, I set up a little command center to keep all of my organized goodness accessible. :)
IHeart Organizing Project Paper
. Enjoy!
Love,